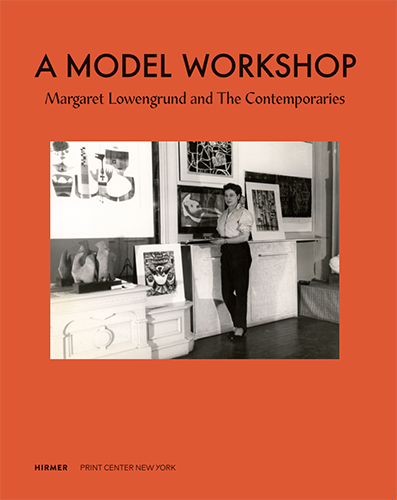 A Model Workshop: Margaret Lowengrund and The Contemporaries
This catalog accompanies a 2023 exhibition at Print Center New York.
A Model Workshop explores the understudied impact of Margaret Lowengrund (1902–57), a visionary figure within the mid-twentieth century printmaking community, and the vibrant New York workshop and gallery she founded, The Contemporaries. Bringing together original essays and archival documents, the book maps the activities, networks, and legacies of Lowengrund and The Contemporaries, placing them in the context of organized labor, feminism, entrepreneurship, international exchange, and modern prints. In doing so, A Model Workshop expands our understanding of 1950s printmaking by showing that Lowengrund and The Contemporaries were a vital nexus in the field.
Table of Contents
Introduction, Christina Weyl and Lauren Rosenblum
Conceiving a Model Workshop: Margaret Lowengrund before The Contemporaries, Lauren Rosenblum
Fusing Printmaking, Commerce, and Education: The Contemporaries and Pratt Graphic Art Center, Christina Weyl
The Imprint of an Artist, Witness, and Advocate Ellen J. Benjamin
Vision and Grit: Margaret Lowengrund and New York's Female Gallerists of the 1950s Jillian Russo
Ideal Pictures for Modern Walls: Margaret Lowengrund, The Contemporaries, and the Postwar Middle-Class Interior Sarah Archer
Printmaking Exchanges between Japan and the United States in the Mid-Twentieth Century Noriko Kuwahara
Redefining Contemporary Print: Luis Camnitzer, Liliana Porter, and the New York Graphic Workshop Rachel Vogel
Chronology
Exhibition Histories
Other Projects
Review of online catalogue raisonné: Highpoint Editions: A History …
Essay for exhibition catalogue: Sue Fuller: Into the Composition …
This catalog accompanies a 2021 exhibition at The Art Students League …